Services
Spiritual Care
A team approach is used for the care of those at the end of life and their loved ones.
Spiritual care is offered to patients and their loved ones regardless of belief system.
Our team can offer emotional counseling during an often difficult point in a person's life.
Our team can coordinate with patients' clergy for their spiritual care.
Chaplains can assist with funeral planning and can officiate a funerals when requested.
"Visions of Hope" Support Group
Grief and bereavement support group in an open format for those who have experienced a loss of any kind
When: Every Thursday from 5 pm to 6 pm
Where: Hospice Visions Office Conference Room
1770 Park View Drive, Twin Falls, Idaho 83301
Contact: Paul Jordan and David Ackerman, Spiritual Advisors, Hospice Visions, Inc., 208-735-0121
Bereavement Care
The Hospice Visions Bereavement Program provides families with grief support for 13 months after the death of a loved one. The first year following the death of someone you love can be a difficult time and our Bereavement Team is available to support the survivors. Having a strong support system in place is an important part of the healing process. Our Bereavement Team understands the unique needs that often occur when working through grief.
Services may include:
Phone calls
Condolence literature
Individual grief loss counseling
Support groups
Community bereavement activities
Community Bereavement
Hospice Visions Inc. is a 501(c)(3) non-profit agency with a strong commitment to providing bereavement services to members of the community. Individuals who have experienced a loss can also access bereavement services regardless of former affiliation with Hospice Visions, Inc.
Children's Bereavement Services
Hospice Visions is proud to partner with other community organizations to provide bereavement support for children through "Because Kids Grieve".

For additional information on "Because Kids Grieve", contact Mike Seward at 208-352-2994, e-mail: info@becausekidsgrieve.org, or visit their website at becausekidsgrieve.org.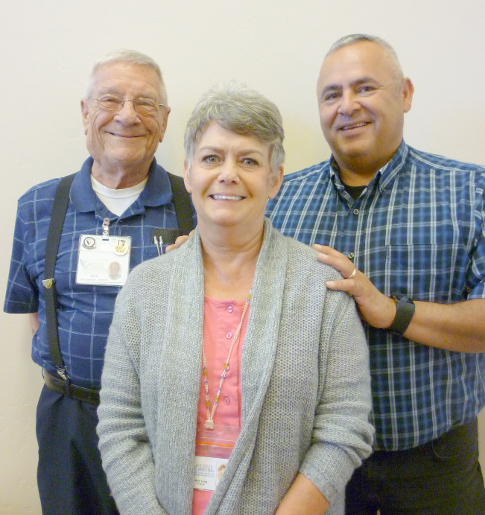 Left to right: Paul Jordan, John Martinez, Joy Archibald, Dick Goetsch
Spiritual Care Advisors
John Martinez
John Michael Martinez of parents Ralph and Ida Martinez of Belen, New Mexico. Married to Shari Campton of Buena Vista, Colorado since 1987. Two daughters, Jessica Martinez and Julia Martinez.
John attended New Mexico State University earning a Bachelor of Music Education, Southwestern Baptist Theological Seminary with a Master of Music. He attended Liberty Theological Seminary for additional theological studies.
John was commissioned as an Army Chaplain in 2007 and currently serves with the Idaho Army National Guard as well as the associate Pastor for Eastside Southern Baptist Church in Twin Falls, Idaho.
John has taught music education K-12 in the New Mexico Public Schools and has served as a minister in churches in New Mexico, Texas and Idaho primarily in the areas of music and student ministry. John has served as Chaplain for Encompass Hospice, ST. Luke's Clinical Pastoral Education Program and currently serves as Chaplain and Bereavement Coordinator for Hospice Visions, Twin Falls, Idaho.
Joy Archibald
Joy Archibald was born in Twin Falls, Idaho and has been called to serve as a Hospice Chaplain, a ministry that she has enjoyed for years. Joy's experience as a Hospice Chaplain has been both educational and rewarding. Hospice Visions, Inc provides Chaplain Joy a different paradigm being her first non-profit Hospice experience. Joy exemplifies the team approach when caring for those at the end of their life to include family and friends before, during and after this transformative time.
Joy brings to Visions a wealth of ministry experience and excels in offering patient and family spiritual support regardless of their particular belief systems.
Joy offers emotional counseling during an often difficult point in a person's life focusing primarily on end of life spiritual care. Also in Joy's scope of responsibilities are the offering of coordinating with patients' clergy and their current spiritual care and assisting them as directed.
Joy believes that the dying process is much more than a medical event and each person's death is as unique as his or her birth. Joy also can assist with funeral planning and can officiate a funeral when requested. Joy counts it a privilege to walk patients and their families through their last leg of their journey here on earth and is honored to be part of the spiritual care team at Hospice Visions, Inc.
Dick Goetsch
Dick is an Army veteran from the Korean Conflict 1953-55, hospice chaplain since 1985, ordained in 1988, and was an original volunteer chaplain for Hospice Visions at their opening in 1995. Currently, he is active as a hospice chaplain since 2005.
Paul Jordan
Paul has been enjoying this work of chaplaincy for the past 11 years; the first 5 years for a non-profit hospice in southern Nevada and the last 6 years for Hospice Visions. He loves the work and especially participating/facilitating the grief and bereavement supports groups that Hospice Visions now has. Paul has recently kept busy and informed in our business by studying and becoming a BCACLC. That stands for Board Certified Advanced Christian Life Coach, and it is very in line with our work as spiritual care advisors, helping individuals as well as families work through the painful season of grief and mourning.