Services
Spiritual Care
A team approach is used for the care of those at the end of life and their loved ones.
Spiritual care is offered to patients and their loved ones regardless of belief system.
Our team can offer emotional counseling during an often difficult point in a person's life.
Our team can coordinate with patients' clergy for their spiritual care.
Chaplains can assist with funeral planning and can officiate a funerals when requested.
"Visions of Hope" Support Group
Grief and bereavement support group in an open format for those who have experienced a loss of any kind
When: Every Thursday from 5 pm to 6 pm
Where: Hospice Visions Office Conference Room
455 Park View Loop, Twin Falls, Idaho 83301
Contact: John Martinez, Spiritual Advisor and Tonya Kemper, MSW, Hospice Visions, Inc., 208-735-0121
Bereavement Care
The Hospice Visions Bereavement Program provides families with grief support for 13 months after the death of a loved one. The first year following the death of someone you love can be a difficult time and our Bereavement Team is available to support the survivors. Having a strong support system in place is an important part of the healing process. Our Bereavement Team understands the unique needs that often occur when working through grief.
Services may include:
Phone calls
Condolence literature
Individual grief loss counseling
Support groups
Community bereavement activities
Community Bereavement
Hospice Visions Inc. is a 501(c)(3) non-profit agency with a strong commitment to providing bereavement services to members of the community. Individuals who have experienced a loss can also access bereavement services regardless of former affiliation with Hospice Visions, Inc.
Children's Bereavement Services
Hospice Visions is proud to partner with other community organizations to provide bereavement support for children through "Because Kids Grieve".

For additional information on "Because Kids Grieve", contact Mike Seward at 208-352-2994, e-mail: info@becausekidsgrieve.org, or visit their website at becausekidsgrieve.org.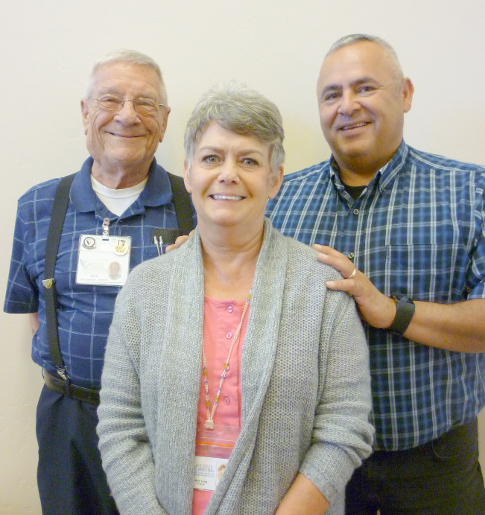 Left to right: Dick Goetsch, Alice Long, John Martinez
Spiritual Care Advisors
Dick Goetsch
Dick is an Army veteran from the Korean Conflict 1953-55, hospice chaplain since 1985, ordained in 1988, and was an original volunteer chaplain for Hospice Visions at their opening in 1995. Currently, he is active as a hospice chaplain since 2005.
Alice Long
Alice Long is an ordained, non-denominational minister, having nine years experience as a hospice chaplain.
She holds a Doctor of Ministry Degree in Franklian Psychology (Logotherapy) from the Graduate Theological Foundation. Logotherapy is a meaning-centered therapeutic form of psychology that works well with the terminally ill and their families. It centers on the personal discovery of meaning, even in the most miserable of circumstances and the unchangeable fate of death.
She is a faculty member of the Victor Frankl Institute of Logotherapy, teaching accredited classes for the institute. She has presented papers at the International Logotherapy Congress several times and taught Logotherapy in Israel. She has papers published in the International Logotherapy Forum, the official publication of the Victor Frankl Institute of Logotherapy. Her emphasis in those presentations/papers were "Finding Meaning" in the dying process for the patient and/or family and "Finding Meaning and Reaching a New Normal" in bereavement.
John Martinez
John Michael Martinez of parents Ralph and Ida Martinez of Belen, New Mexico. Married to Shari Campton of Buena Vista, Colorado since 1987. Two daughters, Jessica Martinez and Julia Martinez.
John attended New Mexico State University earning a Bachelor of Music Education, Southwestern Baptist Theological Seminary with a Master of Music. He attended Liberty Theological Seminary for additional theological studies.
John was commissioned as an Army Chaplain in 2007 and currently serves with the Idaho Army National Guard as well as the associate Pastor for Eastside Southern Baptist Church in Twin Falls, Idaho.
John has taught music education K-12 in the New Mexico Public Schools and has served as a minister in churches in New Mexico, Texas and Idaho primarily in the areas of music and student ministry. John has served as Chaplain for Encompass Hospice, ST. Luke's Clinical Pastoral Education Program and currently serves as Chaplain and Bereavement Coordinator for Hospice Visions, Twin Falls, Idaho.