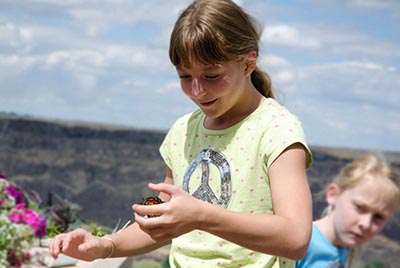 Butterfly Release
7th Annual Butterfly Release
Canyon Crest Dining & Event Center
June 22th, 2019
Event Starts at 11:00 am
Our butterfly release event is just around the corner! Head over to the Donate to Hospice page and select the Butterfly Release Event to order your butterflies. Each butterfly can be acquired with a small, $20 donation! Butterflies will also be available at the door on the day of the event from 10:00 am to 10:45 am.
This is an occasion for anyone who has lost a loved one, or to honor a loved one who is living, and to pay tribute to him or her in a very unique way. The butterfly is a recognized symbol of hope, so releasing them together in a loving, supportive environment, is a memorable experience.
Hospice Visions, Inc. would like to invite you to honor the life of a loved one by joining us for the 7th Annual Hospice Benefit Butterfly Release set on the Canyon Crest Patio and the walking path on the Snake River canyon rim.
Proceeds from this event will help support our "Visions of Home" hospice home.
Our Butterfly Release is an uplifting, joyful experience honoring those we love, and remembering those we have lost. Contact Hospice Visions to reserve your butterflies, visit us at www.hospicevisions.org or call us at 208-735-0121.